2007 ART SCHOLARSHIP RECIPIENTS
---
MATTHEW ATHAYDE
Walsingham Academy
My art is not necessarily what everyone thinks of when someone says "art", partially because it is 3-D and also because I try to make most of my art functional. All of my Native American dance regalia is used. Most of my chainmaille pieces are either worn or used, and my knives are made to be functional. I use my art to express myself and to make a little money in order to continue doing other projects. Art is a way to let myself think and just let my mind go.

I plan on attending art school and once I graduate, I hope to start my own metal shop doing custom works such as wine racks, custom knives, jewelry, iron work, and custom commission pieces in most types of metal smithing.
Choosing one project as my favorite is very difficult but I would have to say my favorite thing I have made is my dance regalia collectively. My regalia is truly many projects that have formed into one large piece. It has taken a few years to get to the point that it is at now and is truly the most personal piece of art I have created.
---
ZACHARY LEE BLACK
Lafayette High School
In my life, my art is myself. A direct representation of my thoughts, ideas, and envisions. I try to show my emotions through art, and represent the piece's emotions or feelings. I plan to expand my art through my lifespan. The role art plays in my life, I feel, guides my life and mind. To feel that I have actually created something no one else could. That is the largest impact on me.
My art is not particularly clean in style or sometimes content. Depending on the media or content, is what shows the emotions. In a watercolor piece it is more about splatters and colors that show feelings, (while in) an acrylic piece it is about color and texture. Most of my art means everything to me; if I did not have art I would probably kill myself. My goal is to make people get what they will out of it, to take their ideas and emotions and apply it to the piece themselves, making the piece more theirs. With everything, you get your shit work and then you get your beautiful work, which makes your day, life, hour and mind. Art makes my mind my eyes.
top of page
---
RACHEL HAMMETT
Williamsburg Christian Academy
Creating art is very enjoyable to me; it is very important in my life. I feel as though God has given me a gift that I must use for His glory. For this reason, I intend to study art in college. I am sure it will play an important role in my future.
It is hard for me to choose one favorite project because I love experimenting with different media and each project is individually enjoyable to me. However, because acrylic is my favorite, most comfortable medium, my favorite project was a painting done from two photographs of Nags Head. I altered them from a seascape, adding trees along the shore of a smaller body of water. This painting was different and unique because instead of using brushes and knives, I used my fingers. It took a while to get used to, but in the end, turned out well and was an enlightening experience for me.
top of page
---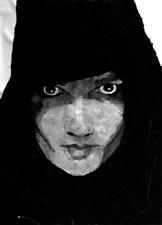 KIERSTEN MARSHALL
Lafayette High School
My love of art and motivation to expand and imporve my talents has grown over the years. One of my favorite art projects was a three foot by four foot fingerprint painting. The idea was based on Chuck Close's style of finger-painting faces on large canvases. Working from a gridded photo, the objective was to produce a greyscale duplicate on a very large scale. The paintings aren't supposed to look like the subject until you step back from the canvas. My fingerprints are set into each and every dab I made on my canvas. This gave my piece of work individualization . In theory, my canvas is my code of art; no one's art is like anyone else's.
I yearn to study under the best professors, studying abroad, pulling together various historic cultures and helping form a new one for the coming generation. I would like to be able to say that I studied and created my artwork during the next major movement, just like Andy Warhol was a part of the Pop movement and Vincent Van Gogh was a part of Impressionism. I am hopeful that my college experience will open countless doors to multiple career possibilities. I wish to learn skills that will be useful to improving my style and ability. Art is a form of expressing yourself without ever having to speak a word. I'd like to be able to show how the world appears through my eyes, and my response to a variety of issues.
---
Top of Page